DICKSON DEE & TOMASZ PAUSZEK AKA RND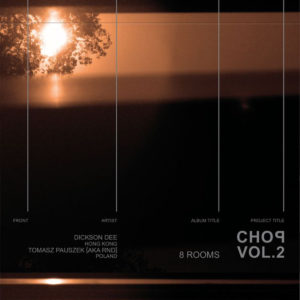 Buy CD:       

Listen:          

"8 Rooms" album was conceived, recorded and produced by Tomasz Pauszek (aka RND) and the Hong Kong musican and producer Dickson Dee in 2008. This album was released as the second part of "ChoP", which is a music project of transnational collaboration between China and Poland.
This album links extreme experimental music with moody, new dark ambient.
Tracklist:
01. Room 1
02. Room 2
03. Room 3
04. Room 4
05. Room 5
06. Room 6
07. Room 7
08. Room 8